PTFA and Fundraising
Welcome from Princess May's PTFA
As we start a new academic year, it's fantastic to see all the new faces joining the Princess May community. As a Parents Teacher & Friends Association (PTFA) we'd like to welcome everyone to the school.
We are fortunate at our school to have a PTFA that is and has been an integral part of the school community. The PTFA helps to raise funds to enhance our children's education experience and the school's facilities. As fantastic as the fundraising is, our PTFA is about much more than simply raising money. The PTFA is an excellent way to bring parents and friends together socially in support of the school, working towards a common goal. All families are automatically members of the PTFA when their child joins our school and everyone is encouraged to get involved.
The PTFA is extremely conscious of the inclusive ethos and diversity of our school, and we try very hard when organising and planning events to respect this. As well as raising funds, the PTFA, plays an important part in building a strong community around the school:
by getting to know parents and teachers outside your child's peer group
by making little eyes sparkle at events created especially for them
by learning to do new things as a team and thinking up new ideas
by engaging with the local community on our doorstep
making new friends and having fun
Not all of our events are run as fundraisers. Our children's disco, Easter Trail and The Big Picnic are run with the aim of giving the children a good time and as a way of thanking families for their continued support for the PTFA.
Our PTFA Committee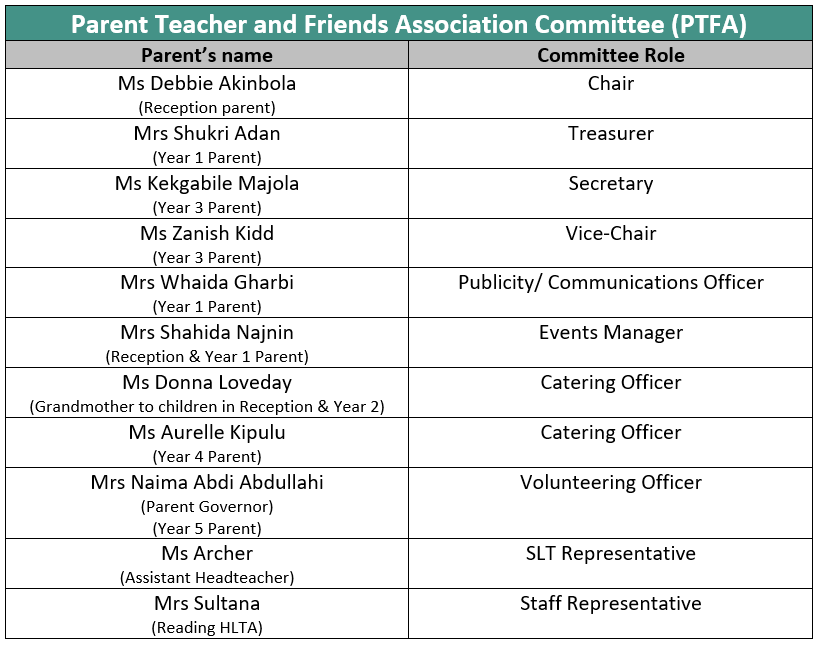 How you can help
In order to achieve our goals, we are asking for as much support as possible; from helping with donations for events, giving time to support the running of events, but most importantly, by attending and supporting our events to make them worthwhile for the school and the community. See the dates for your diary section which lists our upcoming events.
We are 100% volunteer-led, and all our current volunteers have full-time jobs or other commitments too. So we are looking for some additional help by gathering extra volunteers. All help is welcome; from taking an active ongoing role to donating a few hours of your time occasionally.
We are currently looking for: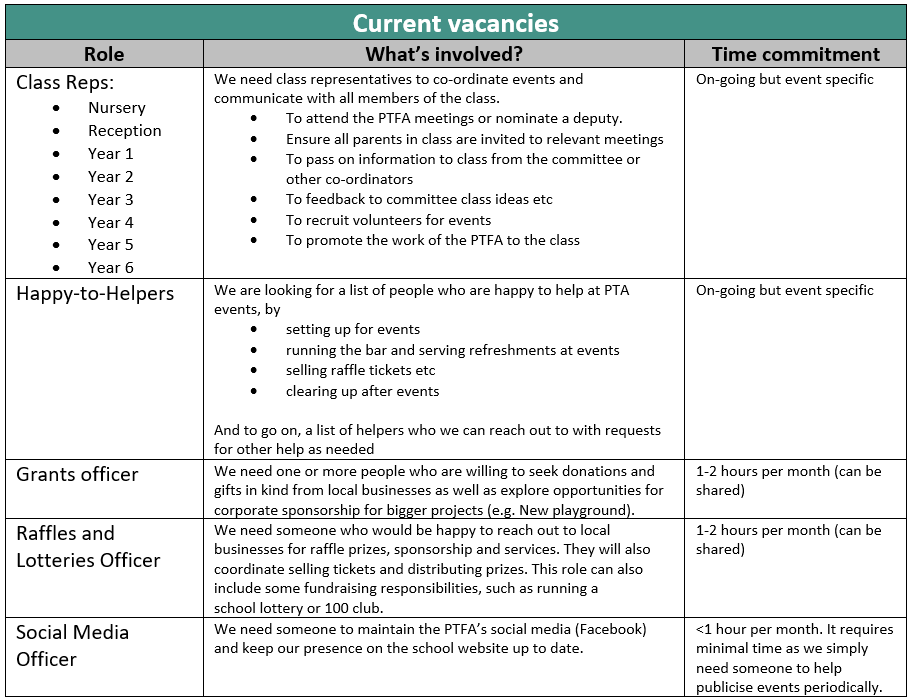 Dates for your diary
The PTFA is currently organising a series of events for the school year. You will see these dates appear in the Newsletter and Parent Board. Please bear with us while we get this up and running.
| | | | |
| --- | --- | --- | --- |
| Date | Time | Location | Event |
| 21st September 2023 | 3:30pm-4pm | Princess May | Steering Group Meeting |
| 12th October 2023 | 3:30pm-4:15pm | Princess May | PTFA Annual General Meeting (AGM) |
| 19th October 2023 | 3:30pm-4pm | Princess May | PTFA Meeting |
| 31st October 2023 | 3:30pm-4:30pm | Princess May | PTFA Meeting |
| 8th December 2023 | 2pm-5:30pm | Princess May | Winter Fair |
PTFA communication channels:
Facebook: TBC
Instagram: TBC
PTFA email: TBC
PTFA initiatives that run all year that you can start supporting today!
School Lottery:
The lottery works by parents signing up to a monthly direct debit. The minimum requirement is £1 per month, although people typically contribute between £5 – £10 a month – and some people do more than that. There is a monthly draw for which the cash prizes are £40, £30 and £20, which equates to about 30% of the total takings.
Please sign up by emailing the PTFA at: TBC
Easyfundraising.org.uk:
Please note Princess May Primary School – London is registered with easyfundraising. Easyfundraising is a simple and hugely effective way to raise funds for the school. Once registered, any purchases you make through a partner retailer (there are thousands of partner retailers) will generate a donation to the school at no extra cost to you.
In the coming weeks, if you're shopping online, please remember to shop via the easyfundraising website or app. There are thousands of retailers on easyfundraising, including M&S, booking.com, Argos, Sky, Sainsburys Groceries, John Lewis, Clarks, WHSmith etc. who all give free donations to Princess May School, based on a percentage of what you spend at no cost to you (the percentage varies per shop, but some are up to 6%).
If you're not already signed up, it only takes a few minutes, then you can begin using the easyfundraising website or app straightaway – simply visit easyfundraising first and then shop online as normal. This will be an enormous help to us, at no extra cost to yourself.
Please visit the easyfundraising page to get started: https://www.easyfundraising.org.uk/causes/princess-may-primary-school-london/
Useful information below: