Maths
Mathematics at Princess May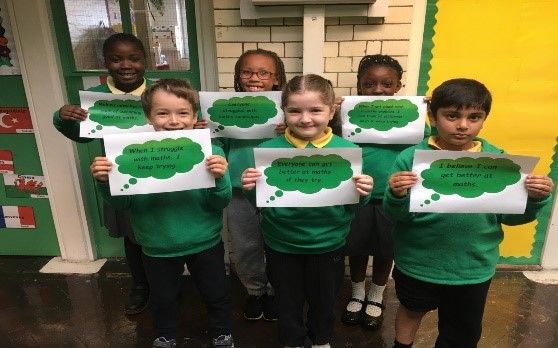 We use maths in every aspect of our lives at work and in practical everyday activities at home and beyond. We use maths when we go shopping, when cooking, planning a holiday, deciding on the best interest rates for our savings or when decorating a room. Decisions in life are so often based on numerical information: to make the best choices, we need to be numerate. Poor numeracy can affect a person's confidence and self-esteem. At Princess May we are passionate that our pupils are fluent in the fundamentals of mathematics, able to reason mathematically and can solve problems by applying their mathematics. We aim to nurture an appreciation of the power of mathematics, and a sense of enjoyment, curiosity about the subject and a positive attitude towards maths that will stay with our pupils for life.
"Everyone struggles with maths sometimes."
"Making mistakes is part of becoming good at maths."
"Everyone can get better at maths if they try."
"When I struggle with maths, I keep trying."
"When I get stuck with a maths problem, I can think of different ways to keep trying."
"I believe I can get better at maths."
Our Approach
At Princess May in Reception, Year 1, 2 and 3 we teach maths through Maths Mastery and in Years 4, 5 and 6 Primary Advantage, both approaches explore mathematical concepts using concrete apparatus (things pupils can touch, hold and are manipulative), visual representations (things they can see) to help children to visualise and internalise mathematical concepts, allowing them to access, conceptualise and solve problems before moving onto an abstract approach. Through the consistent use of these apparatus and representation, our pupils gain confidence as independent learners to use resources and solve problems. There is also an importance placed on the language of maths at Princess May, (peer conversation/talk partners, adult to child/child to adult and child to child questioning and explanations) and problem solving to build confidence in a pupil's mathematical understanding and opportunity to apply mathematical skills.
The National Curriculum
As with all maintained schools in the UK, we follow the statutory National Curriculum for Mathematics. At Princess May we feel strongly about 'mastery for all' that the majority of pupils will move through the programmes of study at broadly the same pace, keeping classes working together on the same content while at the same time addressing the need for all pupils to master the curriculum and for some to gain a greater depth of proficiency and understanding. Pupils who grasp concepts rapidly are challenged through being offered opportunities to apply their skills to problems before any acceleration through new content. Those pupils who are not sufficiently fluent with earlier material are given opportunities to consolidate their understanding, including through additional practice, before moving on.
Marking
The main purpose of our marking policy is to ensure that marking and constructive feedback is personal, frequent and of a consistently high quality enabling pupils to understand how to improve and develop their work with planned in time for children to respond to feedback.
Clear marking codes are shared with pupils verbally and a copy placed in the front of their maths books for both pupils and teachers to refer to. Pupils from Year 2-6 are expected to make a pupil response in blue pen to their class teacher's marking as a means of developing them as independent learners. In Key Stage 1 class teachers also use a smiley face code to give feedback to pupils and start to develop pupil response with children in their class in the summer term.
Assessment
Assessment at Princess May is on-going and continuous, both formative and summative is regarded as an integral part of teaching and learning and is a continuous process. It is the responsibility of the class teacher to assess all pupils in their class, collecting evidence of children working towards and at age appropriate objectives. This is achieved through samples of written work, photographs, mini plenaries, questioning, marking, T.A feedback, pupil self-assessment and end of unit, term assessment. Each half term during pupil progress meetings class teachers meet with members of the schools Senior Leadership Team to review the progress pupils are making towards mastery of age-expected skills ensuring that gaps in pupils understanding are quickly identified and addressed.
Homework
Homework is sent home weekly. The main purpose of maths homework at Princess May is for our children to have the opportunity to consolidate the skills learnt at school during the previous week, but also to celebrate their achievement and progress with their family. Homework tasks will also help children to develop speaking and listening at home with their families/friends in familiar contexts.
How Can You Help at Home?
There are many additional ways you can help with your child's learning in mathematics at home:
Key Stage 1

(Years 1-2)

Lower Key Stage 2

(Years 3-4)

Upper Key Stage 2

(Years 5-6)

Counting in 1s, 2s, 5s and 10s as your child progresses.

Practise times tables and division facts as your child progresses. (Children are expected to know all of their times tables and the related division facts by the end of the year 4.)

Practise times tables and division facts as your child progresses.

Make use of opportunities for your child to weigh and measure, in the supermarket, at home when cooking.

Ask your child to estimate distances and other measures.

Practise multiplying and dividing number facts by 10, 100 and 1000.

Count, add and subtract numbers of objects, applying skills learnt at school.

Add up the shopping bill and work out the change for simple transactions.

Add up the shopping bill and work out the change for simple transactions.

Ask your child to tell you the time.

Ask your child to tell you the time or predict what the time will be in 30 minutes/1 hour.

Look at bus and train timetables. Look at the duration of the same journey – is it as many stops? Is it quicker to go by one mode of transport then the other?

Handling different denominations of money, look at how many 1p coins are equal to 2p, 5p, 10p…

Help your child with their homework.

Help your child with their homework.

Help your child with their homework