History
History at Princess May
The aim of History teaching at Princess May is to encourage children's interest and understanding of how the world and its societies have developed. Since September 2014, we are following the new History Curriculum which focuses on British history. We help pupils gain knowledge and understanding of Britain's past and that of the wider world. We teach children a sense of chronology. Through this they develop a sense of identity and a cultural understanding based on their own historical heritage. Therefore they learn to valuee their own and other people's cultures in modern multicultural Britain. By considering how people lived in the past, they are better able understand choices faced people today. In our school, History makes an important contribution to encouraging British values by teaching about how Britain developed as a democratic society. We teach children to understand how events in the past have influenced our lives today; we also teach them to investigate events of the past and by doing so, they develop the skills of analysis, enquiry, interpretation and problem solving.
Aims
To promote positive attitudes and enthusiasm for History work in school
Inspire pupils' curiosity about the past in Britain and the wider world
To help children understand how the past influences the present and what past societies were like
To develop a chronological framework for their knowledge of societies, events and peoples of the past
For children to value History as a subject in its own right as well as understanding its contribution to other curriculum areas
Foster a sense of identity and an increased understanding of pupils' own position in their community and the wider world
Develop a range of skills and abilities - particularly those related to finding out about the past, explaining what happened and what people then and now think about what happened
To know and understand the History of the United Kingdom as a coherent, chronological narrative from earliest times to present day
To understand and deploy historical terms (such as empire, civilisation and parliament) and concepts (such as continuity and change, cause and consequence)
Through history we can also:
Improve pupils' skills in literacy, numeracy and ICT
Develop pupils' thinking skills
Promote pupils' awareness and understanding of gender, cultural, spiritual and moral issues
Develop pupils as active citizens
By the end of Key Stage 1, most children will be expected to:
Understand changes within living memory. Where appropriate, these should be used to reveal aspects of change in national life
Have studied events beyond living memory that are significant nationally or globally [for example, the Great Fire of London, the first aeroplane flight or events commemorated through festivals or anniversaries]
Know about the lives of significant individuals in the past who have contributed to national and international achievements. Some should be used to compare aspects of life in different periods [for example, Elizabeth I and Queen Victoria, Christopher Columbus and Neil Armstrong, Rosa Parks and Emily Davison, Mary Seacole and/or Florence Nightingale and Edith Cavell]
Have been exposed to significant historical events, people and places in their own locality.
By the end of Key Stage 2, most children will be expected to:
Explain changes in Britain from the Stone Age to the Iron Age
Have learned about the Roman Empire and its impact on Britain Examples
Have studied Britain's settlement by Anglo-Saxons and Scots and the Viking and Anglo-Saxon struggle for the Kingdom of England to the time of Edward the Confessor
Have completed a local history study and a study of an aspect or theme in British history that extends pupils' chronological knowledge beyond 1066
Understand the achievements of the earliest civilizations – an overview of where and when the first civilizations appeared and a depth study of one of the following: Ancient Sumer; The Indus Valley; Ancient Egypt; The Shang Dynasty of Ancient China
Be familiar with Ancient Greece – a study of Greek life and achievements and their influence on the western world
Be familiar with a non-European society that provides contrasts with British history – one study chosen from: early Islamic civilization, including a study of Baghdad c. AD 900; Mayan civilization c. AD 900; Benin (West Africa) c. AD 900-1300.
Teaching and learning style
History teaching focuses on enabling children to think as historians. We place an emphasis on examining historical artefacts and primary sources where available or on trips. In each key stage we give children the opportunity to visit sites of historical significance. We recognise and value the importance of cross curricular learning, drama and storytelling in History teaching, and we regard this as an important way of stimulating interest in the past. We focus on helping children understand that historical events can be interpreted in different ways, and that they should always ask searching questions, such as 'how do we know?' about information they are given. We recognise that in all classes children have a wide range of ability in History and we seek to provide suitable learning opportunities for all children by matching the challenge of the task to the ability of the child.
Cross-Curricular links with History
Literacy is supported by the History curriculum in a number of ways. In Year 2 to underpin their study of Florence Nightingale they write a biography of Florence Nightingale. In Year 5 to underpin their study of ancient Greece they study Greek Myths.
Geography is an integral part of history as land use and location are central to why certain historical events happened. Many of the tasks our children tackle in history lessons draw upon this understanding.
Each History unit looks at an aspect of art from that era such as Ancient Greek clay models, Ancient Chinese calligraphy and World War II propaganda posters. This allows children to reflect on how art to help us build a picture about the past.
History Trips
At Princess May, trips are central to enriching the learning of our pupils and bringing history to life. We are ideally located in a city rich in History and within easy reach of cultural amenities such as The British Museum, The Museum of London, The Tower of London, The Geffrey Museum, The Imperial War Museum and Pudding Lane itself!
We have a strong link with the Hackney Museum, which classes visit in a regular basis to deepen their understanding of subjects such as local history – The Blitz in Hackney and Black History Month.
We regularly report on these trips in the newsletter so have a look at each issue and see what has been going on!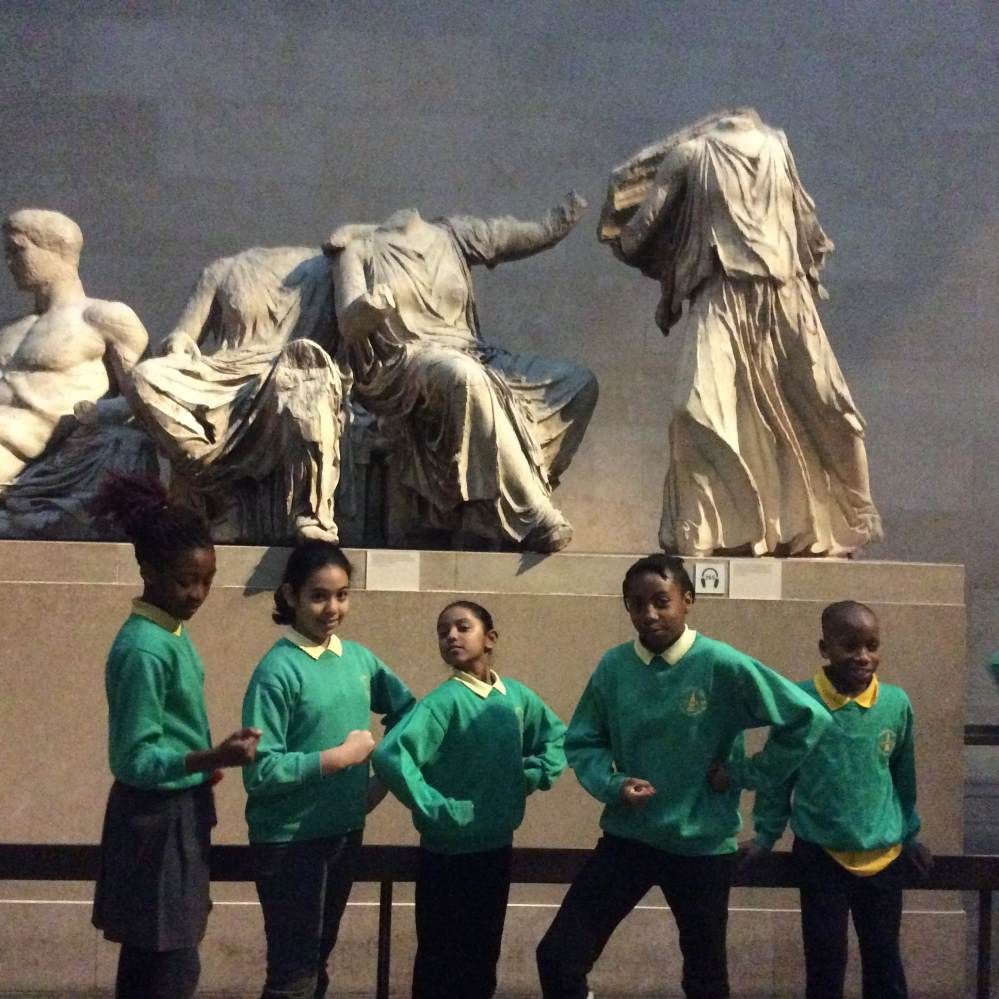 History at Home
Being an ancient city, living in London provides our children with a great opportunity to discover more about the past. As well as many museums, history is everywhere – in buildings, blue plaques, monuments and our old city wall! Children can also learn a lot from their own personal stories of the past which allow them to understand that the world changes with each generation. At Princess May we actively encourage children to continue their research at home. Below are some websites you might find useful: